Job hunters – this summer is undoubtedly going to feel different this year. People are venturing out into the world, masking mandates are easing up, vaccinations are rising, and it seems like recovery is in sight. The other good news on the horizon is that jobs in the printing and packaging industry are becoming more plentiful. So now seems like an excellent opportunity to share some tips for job seekers looking for work in a post-pandemic environment.
UPDATE YOUR RESUME
Get a head start on the competition and have your resume and job application information ready to go. Start by writing out your most recent job history with dates and general job responsibilities, skills required, and equipment used. Through this process, you can build a good framework for a basic resume. Unclear how to format the information? Google Docs has a template gallery with resumes already set up for you. One page should do the trick unless you have had many past positions which would show experience and relevance. Keep cover letters simple using a basic business letter format. Describe why the job interests you and what makes you the most qualified candidate. Don't forget to spell check and proofread.
PUT YOURSELF OUT THERE
Create a profile and upload your resume to the print and packaging industries' largest job board, Printworkers.com. Each day employers are posting open positions and visiting the site looking for skilled workers just like you. Show that you're available for work and let employers know what you can do!
CONSIDER ALL YOUR OPTIONS
This year has opened the door to many more opportunities for job seekers. Now is the time to consider all your options and think about where your skills and experiences could take you. Are you open to moving into different regions or metro areas? Many companies are offering relocation incentives for workers willing to relocate.
Are there other career paths in print and packaging that you could pursue? Consider those with transferable skills like mechanical aptitude, project management, or customer service. Also, don't limit yourself to specific job titles. Many companies use their own terminology for a position name. Try searching for skills rather than job titles. There are plenty of jobs out there for people with an understanding of the print or packaging industry and a willingness to learn.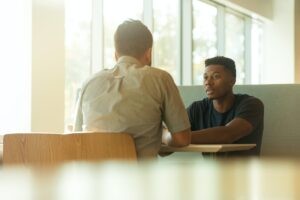 PRACTICE YOUR INTERVIEW SKILLS
It might sound funny, but yes, you should practice how to interview. Grab a friend or family member or just talk to yourself in a mirror to get comfortable with the idea of interacting with someone. It's been a long year of isolation, and you might not be as at ease as you think. Here is a list of some common questions with suggested answers to get you started.
DON'T BE AFRAID TO FLEX
If you're not sure of a position or a company, test out the waters with a flex-to-hire position and see if you like it first. There are many flex-to-hire positions available in the industry that allow you to work with a company on a short-term basis first before joining the staff permanently. Remember, it's just as much of a trial period for them as it is for you.